Hi!
Are you having a nice winter? I'm happy to report that winter here is starting to ease up
and it's actually quite warm outside--if the sun is shining! It's still cold inside, but I'm only wearing three sweaters today instead of five! During these days, you put on your coat/heavy sweaters
to go inside and take them off to go outside--really!
The fuel crisis is also starting to ease up! What a huge blessing. It will take some time for things to get back to normal, but at least there's now a start.
https://thehimalayantimes.com/business/fuel-distribution-to-be-regular-from-today/
Load shedding might actually start to ease up soon too!
https://thehimalayantimes.com/business/nepal-to-import-80mw-electricity-from-tomorrow/
We're thankful for the blessings we have, since many people have super struggled this winter.
https://thehimalayantimes.com/nepal/nepal-winter-storm-hits-quake-survivors-in-sindhupalchok-highlands/
OK, so now that you know we are fine, and just busy as usual,
I will continue on to Celebrity Sightings! (Part 2):
In the last post, I mentioned many celebrities who have come to Nepal that we have missed seeing! By the law of averages, we should have spotted at least one! Oh well!
However, we have seen a few celebrities in our travels!
When we have traveled to Paraguay we have been lucky a few times!
This is the autograph of Marco de Brix.
Those from Paraguay will know his name! He was a famous and very beloved singer.
https://es.wikipedia.org/wiki/Marco_de_Brix
(If that doesn't come through in English, just hit your translate button!)
Sadly, just a few months after we saw him and got that autograph, he passed away!
(The above story tells about it.)
We were in the beautiful shopping mall Mariscal Lopez
when Ramon nudged me. "Look over there." I looked. "What?" I said.
"That's Marco de Brix. He's a very famous singer!"
(photo credit: mp3tunes.tk)
"Really?!" "Of course! I'm not making this up!"
"Do you think we can go and ask for his autograph?"
I had just purchased a daily calendar and so had something for him to sign!
"Let's try." We went over.
"Excuse me, Mr. de Brix. I'm a big fan and we wondered if we could have your autograph."
"Of course!"
He was very gracious and we actually talked to him for about fifteen minutes!
Then he hugged us, right there in the busy mall, and we prayed with him.
We mourned his passing with all of Paraguay just a few months later.
Here is his Facebook page, with lots of pics:
On that same trip, in the airport, Ramon pointed out a young man.
"That's Lidio Benitez, a soccer player."
(photo credit: eluniversal.com.co)
At the time, he was playing in Venezuela, but now is back in Paraguay.
How fun if we see him in Mariscal Lopez next time we're there!
Anyway, Ramon had a nice conversation with him and we got his autograph too!
Another time we were at Mariscal Lopez we saw another soccer player.
However, we didn't ask him for his autograph because he was with his wife and son.
It was Paulo da Silva. He's quite famous.
(photo credit: dailymail.co.uk.)
It was so nice to see him walking around the mall holding the hand of his son!
Once at an airport, while waiting to board a plane,
Ramon pointed out a passenger in the first class line.
"That's Aldo Bobadilla. He's a goal keeper."
(photo credit: terra.com)
As we passed him on our way to coach, (yes, we sit with the masses in coach!), we shook his hand.
Ramon talked to him for a couple of minutes. He was very gracious.
The plane wasn't full and a lot of people stopped to say hello to him.
He has since retired from soccer.
Now, just for fun:
The first team he ever played professionally with is
Cerro Porteno
.
My mother-in-law is a huge fan of one of its rival teams,
Club Olimpia
.
Yes, she loves to watch her football team!
When Ramon wants to tease her, he sings a song about Cerro Porteno that he made up.
He sings in an old man's voice and says silly things about how wonderful Cerro Proteno is.
Of course she gets mad and tells him, "Basta! Basta!" This is "Stop it! Enough!"
Anyway, thinking about him starting out at Cerro Porteno made me think of that!
Another time when we flew to Paraguay, Ramon told me that almost the whole
section of first class was filled with politicians. We didn't talk to them!
So, yes, there is going to be a Part 3 to this post because I did meet and
spend a little bit of time with another famous person, but you'll have to wait to find out who!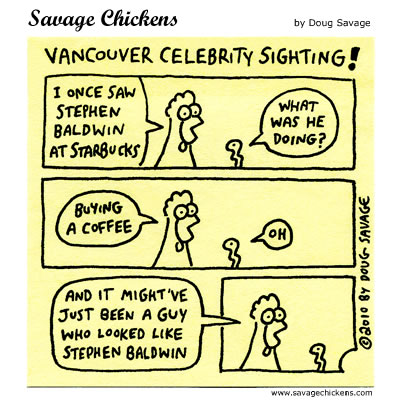 (photo credit: savagechickens.com)
No, it wasn't Stephen Baldwin! I just thought this was cute!
Have a nice day, take care, and God bless!
Thanks to all of you who are praying for Nepal!